Admission Process
The child should have completed 6 years as on 1st June 2024 for admission to 1st Standard. For other classes the corresponding age will be considered for admissions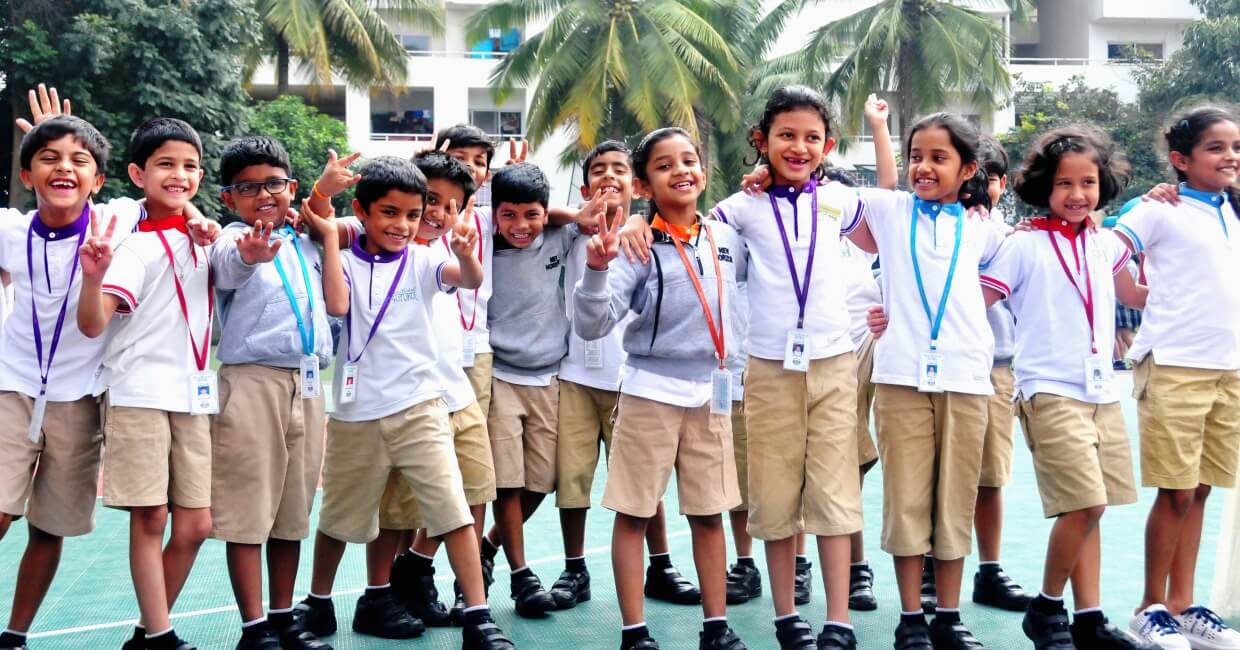 Education is the most powerful weapon which you can use to change the world.  
Providing a space for your child to grow, learn and experience is one of the toughest choices to make as a parent. Most parents ease out months of their year to find the perfect school for their child, rightfully so. The perfect school is one which fosters each student's creative side while educating them, instills manners, tendency to do the right thing, be civilized members of society and help those less privileged than them.  
New Horizon Gurukul (NHG) is one of the best schools in Bangalore, we aim at "enriching and developing the behavior and personality of children in a friendly and inspirational environment." Our school is student-centered, where each child is paid attention to. Every aspect of their personality is examined and worked on over the course of graduation. We churn out smart, sensitive and critical thinkers who are the leaders of tomorrow. 
At NHG we plan activities besides regular studies that help the students find their niche like after school classes in dance, football, music, badminton, basketball and karate. Students are also a part of inter-house and inter-school events such as the annual sports meet, gyan mela and field trips. We also help our students understand the importance of giving back to society with "UPAHAAR – THE ART OF GIVING". Vigyan Manthan, various Olympiads, Spell Bee competitions which are regularly conducted for the students. Special assemblies on various topics such as One time use plastic ban, Swatchata Pakhwada, Constitution Day, Sadbhavana Day, Kannada Rajyotsava, Kargil Vijay Diwas and more are conducted to educate the students.  
Here is a look at the general subjects the students take each year.  
CLASSES I – V 
English

 

Hindi/Kannada

 

Mathematics

 

EVS

 

Computer

Values Plus

 
CLASSES VI – X
English

 

Kannada/Hindi/Sanskrit/French

Mathematics

Science

 

Social Science

 

Computer

Values Plus

 
CO-SCHOLASTIC SUBJECTS 
Music

 

Dance

 

Yoga

 

Art

 

Physical Education



Self Defence
CLASSES XI – XII
---
Science
English
Chemistry
Maths
Physics
Mathematics
Biology
Physical Education
Computer Science
Psychology
Commerce
English
Accountancy
Business Studies
Economics
Informatics Practice
Physical Education
Mathematics
Psychology
Evaluation: 
Although the students are constantly evaluated besides their marks, the students are graded by absolute marking which is converted into grades and transformed into progress reports. 
Campus: 
We have specifically invested in letting a student learn, discover and explore to their heart's content. Our campus is integrated with every infrastructure that is required for a student to grow holistically –ATL, Composite Science Lab, Science Park. Art Room, yoga center, library, play room, labs, indoor games room, music room, dance room, cafeteria, theatre and more.  
Value Plus  
Our students are repeatedly shown the need to give back to society. They partake in programs that help those in need. NHG helps students understand that they come from a place of privilege which they must use to help others.  
Only the best schools in Bangalore or the top cbse schools in Bangalore provides students with the school features and facilities or dream school facilities that help the child grow holistically. The teachers at Gurukul are timely taught about developments in the department of education, to be at par with the student that is creative. Workshops and seminars are held just as QASDC – Quality Assessment and Skill Development Centre is established to monitor and assess those in authority.  Parents play a major role in the development of the child. Regular parent teacher meets are held to update the parent on the progress of the child. The PTM rooms are also used to discuss ways to help the child learn new things, explore their niche and essentially better themselves.  
Here is a compact description of how our students have performed in the CBSE Board exams in the last few years.  
NHG is one of the best schools in Marathahalli, Bangalore. So, if you are looking up How do I choose a school in Bangalore? Or Are school applications open for 2024? All you have to do is look out for the best facilities, education and tutoring methods provided by the best schools in Bangalore which includes NHG. Make sure to check all the school admission website links available to you to register onto the best school's school admissions application form. Your child deserves the best CBSE school in Bangalore so get them to the Bangalore school admission 2024-25 and begin their journey towards enlightenment through education. 
Finding the best school in Karnataka or cbse schools in Bangalore for 11th and 12th and the process of cbse school admissions in Bangalore is very difficult. Every parent wants their ward to be in one of the actual ranking of top 10 cbse schools in Bangalore. It would be right to say that New Horizon Gurukul is the best school in Bangalore for your child. So, if you are found asking questions like What is the best CBSE school in Bangalore? Which is no 1 school in Bangalore? Which school is famous in Bangalore? Which school is best for CBSE? Then you must know that the answer is New Horizon Gurukul. End your search for the best schools in Bangalore for 11th and 12th/best cbse schools in Bangalore with fee structure/top 10 cbse schools in Bangalore/ affordable cbse schools in Bangalore with New Horizon Gurukul.
Gurukul is one of the top cbse schools in Bangalore among the list of cbse schools in Bangalore. We have some of the best alumni networks in India which makes it the best schools to make connections. We have some of the best types of school facilities in the list of facilities in school in India. 
If you want the cbse school application form for your child, or the best cbse schools in Bangalore for 11th and 12th along with the class 11 admission form in Bangalore then this is your moment to make the right choice.