UDAAN ―Golden Ticket‖ distribution
Posted by

Categories

News

Date

October 10, 2022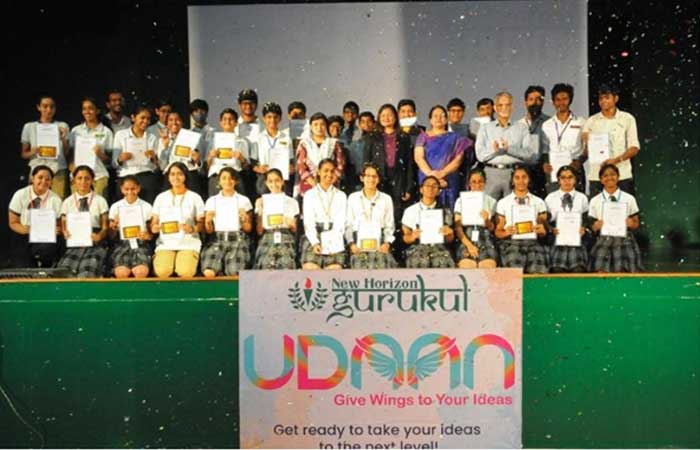 The most awaited event of the year, UDAAN's GOLDEN TICKET was held on 19th August 2022 in Chanakya Auditorium of New Horizon Gurukul. The best innovative ideas and young innovators of NHG were given the Golden Ticket to continue their journey as budding entrepreneurs.
The chief guest Dr. Sheelan Mishra, HOD, department of Management studies NHCE, distributed the golden tickets, congratulated and motivated the participants for their journey in the future.
                                  Golden Ticket Winners
1- AASTHA KEJRIWAL, VARSHITHA K–EM-HAM –Glass breaker hammer— INNOVATION AND TECHNOLOGY
2- ABHAY SRIVASTAVA—Food delivery.— WELL-BEING & SOCIETY
3- ABHISHEK BAL, STYAVYA PANDEY—Cab Services– WELL-BEING & SOCIETY
4- ANUSHKA SAHOO, MYTHLI GANESH-Unplastic The plastic Detector– SUSTAINABLE DEVELOPMENT
5- BHUVAN KALLURI, PARVATHI KOLAPRATH, DIYA DEEPAK GOWDA, INAMPUDI UMA KEERTHI –Busy Mask WELL-BEING & SOCIETY
6- DEVESH REDDY, RAGHAV RANJAN, NISHANTH BALAKRISHNAN, HARSHIT RAJ MISHRA-Immersive Reading INNOVATION AND TECHNOLOGY
7- DHANVIN- Cyber Security and Piracy– INNOVATION AND TECHNOLOGY
8- LOHIT GANDRA-Generating electricity from lightning—INDUSTRY 4.0
9- SERMIN SINGH, NEEMA KINI-Zen Intelligence(app to connect with peers)—-INNOVATION AND TECHNOLOGY
10- ADITI JEWLIKAR, NIDHI RAMJI, NIKITHA ORUGANTI, SHRAVYA PANDEY–Touch me Not (To solve the problem that we are dealing with road Accidents. — INNOVATION AND TECHNOLOGY
11- RISHIT SHARMA ARYAN GOVIL-Tensor Cam(to help communities improve their surveillance at large and much more) INNOVATION AND TECHNOLOGY
12- SHREYANK BURGE, SOMANSH, AAKANKSHA AND AASHMEEN -The Apostle of the Sick (Allow someone else to cook for you just like you want it WELL BEING & SOCIETY
13- SIDDHI BHATT-―She.‖ Receive justice faster- like deserved—- WELL-BEING & SOCIETY
14- ANANYA PREMI-Vayu Shodh Yantra(BETTER AIR QUALITY THROUGH NETWORK OF AIR FILTERS SUSTAINABLE DEVELOPMENT
The event concluded with winners celebrating their first step towards achieving their goal.