CBSE Regional Science Exhibition 2019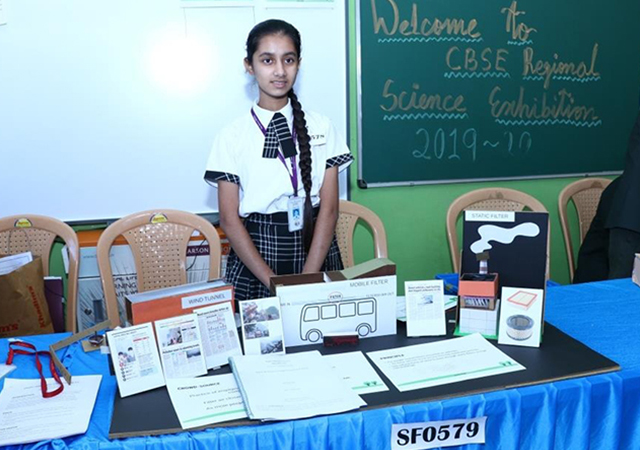 CBSE regional level science exhibition was held on 22nd and 23rd November 2019 at DPS Electronic City Bengaluru.
The exhibition was inaugurated by chief guest, Prof. SoumyenduRaha, a renowned professor at the 'Department of Computational and Data sciences' in Indian Institute of Science, Bengaluru.
The judges were from various fields related to science, mathematics, agriculture, medicine namely Mr Bharath Founding Director and CXO of 'Young Innovators' Educational ServicesPvt Ltd. Dr Jalaja S Kumar, scientist at Central Silk board, Dr.KothandharamanSubramaniam, Senior Scientific Writer and Editor in 'Cactus Communications'  Pvt Ltd,  Dr Divya medical officer from DPS South.
Around 120 teams from different schools across Karnataka exhibited their innovative projects over two days. From New Horizon Gurukul,two students participated in this exhibition.
AnanyaPremi of class 7th B displayed her project 'VayuShodhTantra'. She proposed a solution for better air quality through network of air filters, both static and mobile filters. 'Crowdsource – practice of engaging a 'crowd'or group for a common goal'
The second exhibit was by Rahul T P of class VIII E who displayed a model on 'Smart Irrigation' using 'Raspberry Pithat controls the operation of water pumps used for irrigation based on the inputs from moisture sensors.
Participants were accompanied by mentor teacher, Shilpa Badgeri.
Exhibition was concluded with the valedictory function where the project displayed by AnanyaPremi was selected for CBSE National Level Science Exhibition.