In New Horizon Gurukul, we recruit only qualified and experienced teachers as per CBSE norms. At NHG, the faculty consists of well-trained, experienced professionals who are the embodiment of the Values taught and an attitude to match. They are the Shishya's Friend, Guide and Mentor. They are the inspirational role models for the Shishyas. Their unique teaching styles help concretize the values and creativity in a child, making learning a truly memorable and a happy experience. They are able to spot talent where it is hidden and help it bloom to its full potential. These Gurus are also able to correct weaknesses in their Shishya through subtlety. The growth and success of the Shishya is the prime focus of the faculty. They are also aware of their responsibility to help shape the future world citizen. The school encourages teachers to upgrade their skills and knowledge by pursuing higher avenues of training where new and innovative methodologies can be learnt. Training programmes and workshops are organized on a regular basis.
The faculty at NHG interacts closely with the parents to improve the overall performance of the Shishya. The teacher child ratio has been appropriately selected so as to render individual attention to the Shishya.
Great teachers help create great students. In fact, research shows that an inspiring and informed teacher is the most important school-related factor influencing student achievement, so it is critical to pay close attention to how we train and support both new and experienced educators. Keeping this objective in the mind various workshops are being organized for the teachers of New Horizon Gurukul during every academic year.
THE FACULTY AT NEW HORIZON GURUKUL is highly trained and empowered by attending regular workshops conducted by CBSE other recognized organizations to handle heterogeneous batch of students adeptly .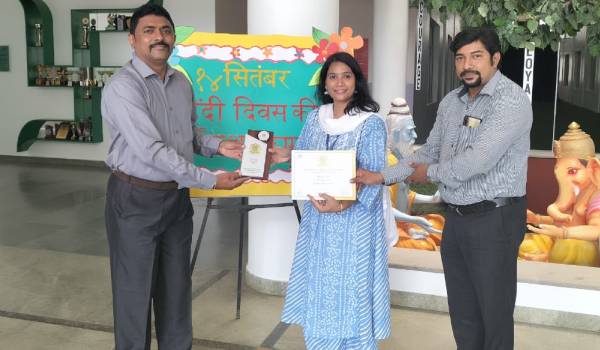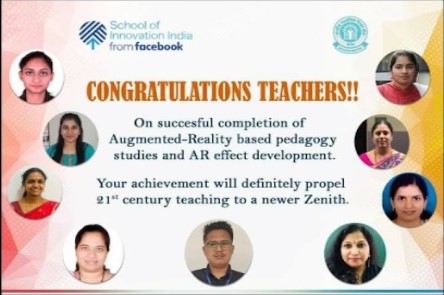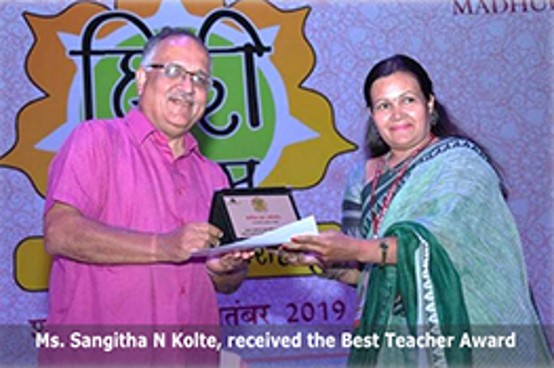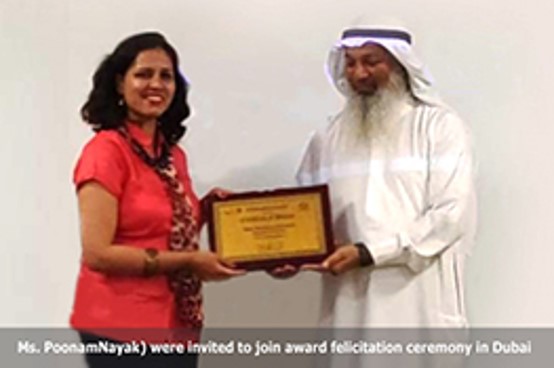 Our teachers don't just impart knowledge. They do wear different hats and play many roles. The transformational power of an effective teacher being flexible and capable of adjusting to novel situations is well appreciated at Gurukul.
Teachers are lifelong learners and their learning is the real meaning of learning from the cradle to grave.
1. Ms. Vina Bondley, received the Best Hindi Teacher Award conducted by
Madhuban publication on the Hindi Divas day -2021.
2.Augmented Reality(AR) enriches pedagogy of any subject and gives fulfilling experience to the learner.
NHG congratulates the teachers who successfully completed a three week AR course conducted by School of Innovation from facebook in collaboration with CBSE .
Teachers could imbibe the jargons of AR , usage of SparkAR platform in AR effect development during the course .
We believe in innovative teaching and AR will take teaching and learning experiences to a newer zenith.
3. Ms. Sangitha N Kolte, received the Best Teacher Award conducted by
Madhuban publication on the Hindi Divas day 2019-20 at Delhi.
4. National Astronomy Challenge – The top finalists from NAC (National Astronomy Challenge) along with their school representative (Ms.PoonamNaik) were invited to join award felicitation ceremony in Dubai, hosted by Dubai Astronomy Group. The top rankers from each school were appreciated and recognized with medals and merit certification.
5. PRP-(Prospective Resource Person)-competence building in science workshop of CBSE held on 26th and 27th June 2019 at Whitefield Global School.
The workshop was highly enriching and informative with excellent presentations on SAEP (Strengthening Assessment and Evaluation Practices), assessment modules, portfolio maintenance, and science practicals. Mr. Vishwanath V, Secondary Science Teacher participated in the workshop and was later selected to be the Resource Person for CBSE COE(Centre of excellence), Chennai Region, India.