Graduation Day
Posted by

Categories

News

Date

February 14, 2023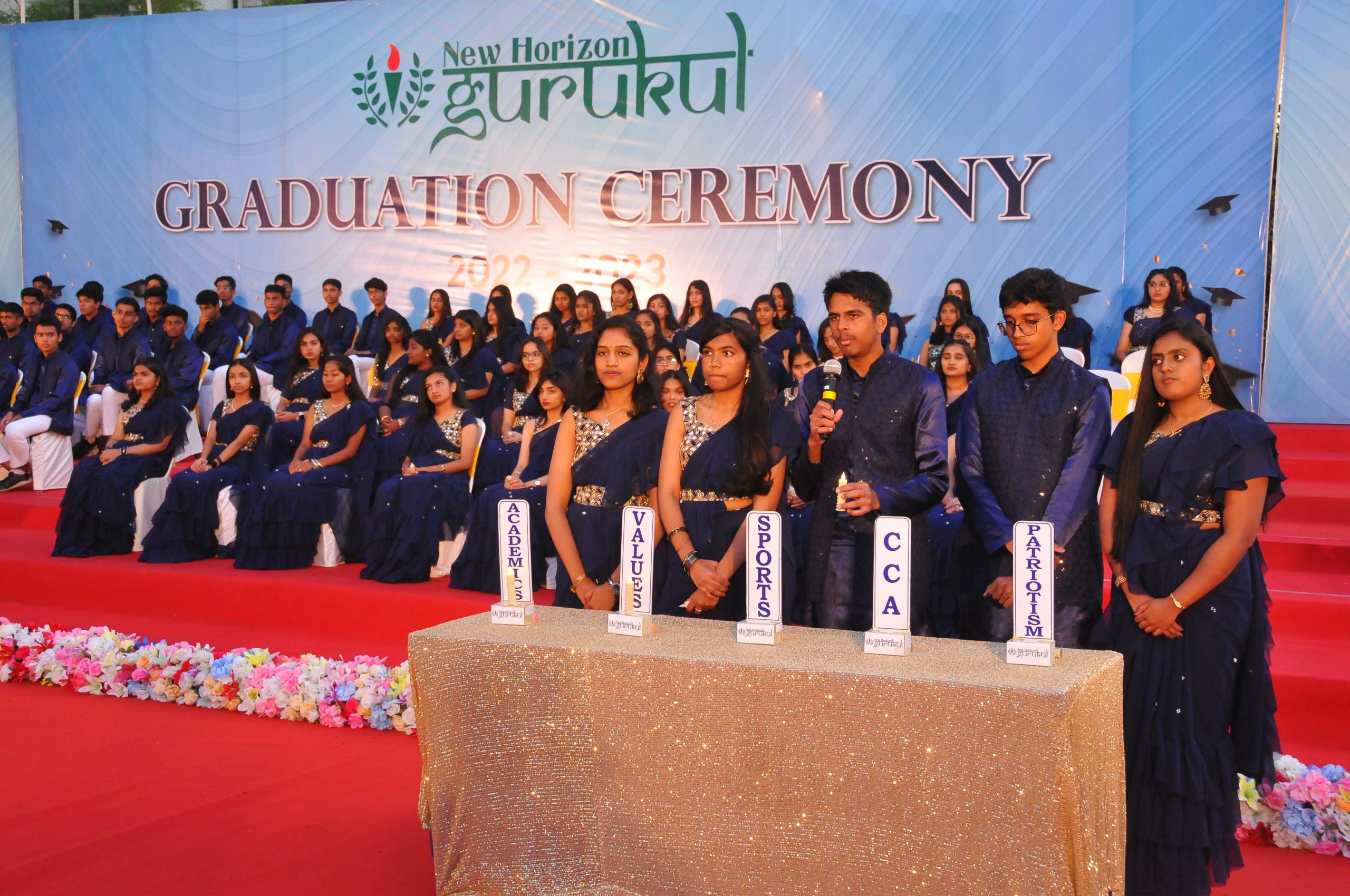 New Horizon Gurukul bids farewell to the outgoing batch of Grade- 10 and 12 of the
academic year 2022-23 through the culmination of Graduation Day on 4th and 5th
February,2023 respectively at the school quadrangle. The celebration for the days
started as the clock strikes 5 in the evening with the students taking the most
venerated Graduation Walk with our principal Ms. Sandhya Singh. The day not only
officially bids adieu to the out-going batches but also celebrates the accomplishments
and success stories of the students of previous academic year (2021-22).
The special day for the students became even more momentous because of the
presence of our President Mr.Surya Bajaj & chief guests Sri Vigraha Dasa Prabhu &
Mr.Venkatraman who have inspired the young minds with the anecdotes and
experiences of their lives.
Saaswath Sundaresan of Grade-12 and Shri Vaishnavi Chimakurthi of Grade-10
emerged as the best outgoing students for the academic year-2022-23. Each of them
has received a cash prize of Rs. 10,000/- and a citation.
Vishnu Balachandar and Sinchana Chandrashekhar were awarded best sports
person of the academic year 2022-23 boy and girl respectively from Grade-10. I Rahul
and Neema Naveen Kini have been awarded best sports person of the academic year
2022-23 boy and girl respectively from Grade-12. Each of them has received a cash
prize of Rs. 10,000/- and a citation.
School toppers and all the individual subject toppers were awarded with cash prize
and mementos. School topper of Grade-X, Prakruthi Prakash and Soham Amit
Brahme the school topper of Grade-XII of the academic year 2021-22 were each
rewarded with a cash prize of Rs. 10,000/- . Prakruthi Prakash has been also rewarded
with the most prestigious 'Chairman Award' and cash prize of Rs. 10,000/- for her
exemplary performance.
Apart from these, 5 subject toppers of English, 1 subject topper of Hindi, 1 subject
topper of French, 10 subject toppers of Sanskrit, 2 subject toppers of Kannada, 26
subject toppers of Information Technology, 11 subject toppers of Mathematics, 6
subject toppers of Science,2 subject toppers of Social Science of Grade-X for the
academic year 2021-22 were rewarded with a cash prize of Rs. 5,000/- each.
Among the students of Grade 12 for the academic year 2021-22, 1 subject topper in
English, 1 subject topper in Business Studies, 2 subject toppers in Accountancy, 2
subject toppers in Economics, 2 subject toppers in Chemistry,5 subject toppers in
Physics, 2 subject toppers in Mathematics, 2 subject toppers in Biology, 1 subject
topper in Psychology, 1 subject topper in Physical Education, 1 subject topper in
Computer and I.P were rewarded with a cash prize of Rs.5000/- each.
All the students were felicitated in the presence of their proud parents and as they
sung the school song for one last time with great enthusiasm and happiness the
glimpses of nostalgia, teary eyed faces were inevitable to go unnoticed. The stellar
laser show and the scrumptious dinner on both days had lifted the spirits of the
students and parents