Inauguration of Composite Science Laboratory
Posted by

Categories

News

Date

September 20, 2023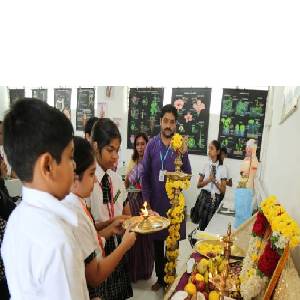 The Composite Science Lab at New Horizon Gurukul was inaugurated on 29th August, 2023. Ms. Sargam Manghnani, the Vice Chairperson, presided over the ceremony. The primary objectives of the composite science lab are
To facilitate  the   exploration   of   fundamental    concepts   in   Biology, Chemistry, and Physics through hands-on
To apply theoretical knowledge to practical lab
To foster the development of a scientific attitude among students.
The laboratory is equipped with modern scientific instruments, microscopes, models, and interactive displays. The students enthusiastically conducted and demonstrated experiments related to Physics, Chemistry, and Biology. These demonstrations showcased the curiosity and excitement of the young learners and their passion for science.
Two models on fluid pressure were displayed and demonstrated. Activities were performed to determine whether a given chemical is an acid, a base, or neutral using indicators. Furthermore, students provided detailed explanations of models depicting the digestive system, lungs, heart, skeletal system, and the various parts of a flower.
The event concluded with a renewed sense of excitement and anticipation for the educational opportunities that the Composite Science Lab would offer to the students,shaping the future scientists and innovators of tomorrow.