Interact Club Installation and Badging Ceremony
Posted by

Categories

News

Date

September 25, 2023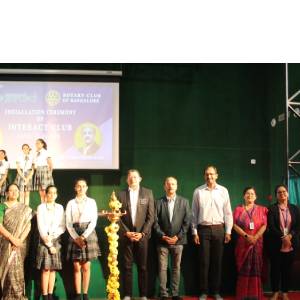 The Rotary Interact Club's Installation and Badging Ceremony took place at New Horizon Gurukul's Chanakya auditorium on 15th September 2023. It marked the official recognition of the newly elected leaders and dedicated volunteers who have joined the rotary club.
The event was a celebration of commitment, service, and community engagement. The ceremony commenced with a warm welcome address to the dignitaries RTN Solomon Paramel and RTN Rudra Shankar Roy which was then followed by the lighting of the lamp. The audience and volunteers were then provided with the introduction and motive of Interact Club and also the emphasis and importance of community service and the role of Interact Club in fostering positive change in our community.
RTN Solomon Paramel shared his experiences in community service and the achievements of Interact Club over the years. His inspiring words encouraged the members to continue their journey in making a positive impact. Later the board of directors along with the volunteers, took the Interact Club Pledge of Service, reaffirming their commitment to uphold the values and mission of our club.
RTN Rudra Shankar Roy announced the newly elected board of directors, which included the President, the Vice President, the Secretary and the directors of the International Peace Committee, Sport Committee, Environment committee and the Community service committee. These leaders were honoured with the interact badges by RTN Solomon Paramel. This symbolic gesture marked the official induction into the Interact Club and demonstrated our dedication to service. This was followed by the introduction and badging of the volunteers who joined the club. Their commitment to making a difference was acknowledged, and they were encouraged to actively participate in upcoming service projects. The installation and badge ceremony was a resounding success, reinforcing our commitment to community service and inspiring the members to lead with passion and dedication. It was a true celebration of the Interact Club spirit.