Overdrive – channel your inner drive
Posted by

Categories

News

Date

July 24, 2023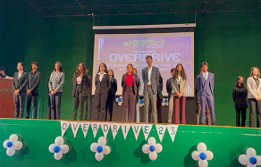 The dawn of 14th July 2023 marked the highly anticipated culmination of all the hard work – Overdrive 2023, the inter-school Commerce fest that aimed to surpass all previous editions in both scale and quality. The atmosphere was filled with agitation and exhilaration as the event promised a spectacular showcase of talent and competition.
Overdrive 2023 saw an overwhelming response, with over twenty schools participating and an astounding total of one hundred twenty registrations. These numbers far exceeded all expectations, raising the bar for the event and indicating its growing popularity and success. The registrations were evenly distributed among the five exciting events under the umbrella of Overdrive – House of Cards (Marketing), Suits (Law), Chanakya Niti (Crisis Management), Matrix (Product Design), and Merchant of Venice (Stock Exchange and Trading).
The event commenced with a grand opening ceremony, where the dedicated team behind Overdrive was introduced, setting the stage for the exciting days ahead. A mesmerizing Bharatanatyam performance by the talented Ms. Raksha of Grade XII C enchanted the spectators, setting a serene tone for the exhilarating days ahead.
One of the most eagerly anticipated aspects of Overdrive was the "Social Eve," which turned out to be a massive hit among participants. The majority of attendees enthusiastically joined the party, creating a vibrant and joyous atmosphere. Even those who were initially hesitant about dancing couldn't resist hitting the dance floor, fully immersing themselves in the lively ambiance of the Chanakya Auditorium.
The winners of each event were felicitated on the final day of Overdrive. As the finalists displayed their diligence in one decisive task, the difficult decision of choosing the ultimate winner was accompanied by the pleasure of acknowledging the remarkable talents that graced the Commerce Fest.
Here are the well-deserved winners and runners-up of each event:
House of Cards:
Winner: Vitraag D Jain from Christ Junior College Runner-up: Arpit Jha from Knowledgeum Academy
Suits
Winner: Manasvi Joshi from Delhi Public School Bangalore East Runner-up: Neil Sarin from Legacy School Bangalore Chanakya Niti:
Winners: Jainish Oswal and Kish Oswal from Christ Junior College Runner-ups: Harini Venkat and Ashita Ashok from TCIS
Matrix:
Winners: Nirav Jain and Pranjal from Christ Junior College
Runner-ups: Sharanya Menon and Varenya Gupta from Delhi Public School East
Merchant of Venice:
Winners: Nayandeep Madan and Rhea Kiran Sanjay from National Public School ITPL Runner-ups: Gaurav S Jain and Yash Shah from Christ Junior College
The resounding success of Overdrive 2023 left participants and organizers alike with cherished memories and a sense of accomplishment, setting the stage for an even more exceptional event in the future.