Sri Krishna Janmashtami Celebrations 2022
Posted by

Categories

News

Date

September 21, 2022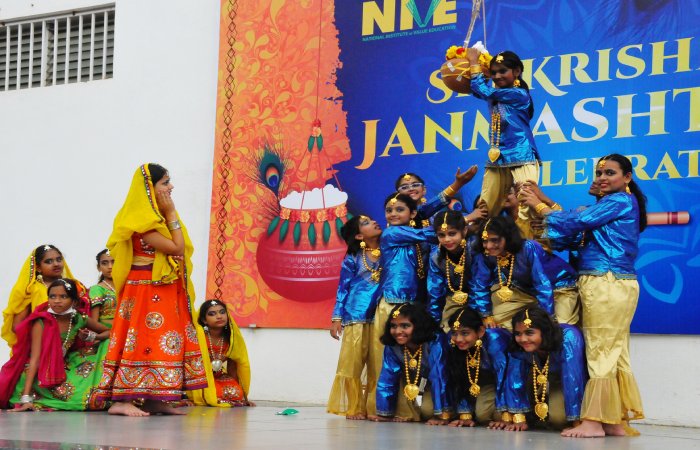 One of the most awaited festivals of India, Janmashtami or Sri Krishnashtami is celebrated on the eighth day of the Shravana month (Aug-Sep) which commemorates the appearance of Lord Krishna 5000 years ago in Mathura.
Janmashtami was celebrated with great zeal and pomp at New Horizon Gurukul on August 18, 2022. The deity of Lord Krishna was adored by offering incense, ghee lamp, water, flowers and other articles. The students participated in the kirtan with great joy by clapping and singing during the arati.
A cultural event was organized to remember Lord Krishna's pastimes. There was a colorful skit enacted by children depicting love and devotion towards god. Students recited Bhagavad-gita shlokas and immersed themselves in melodious bhajans to glorify Lord. Children dressed as Radha and Krishna performed a devotional dance.The memorable event of breaking the Dahi handi grabbed everyone's attention.
The altar was decorated with flowers and festoons for Lord Krishna where all the children and the school staff had a close darshan of Lord Krishna.Special Prasadam was also distributed to every member of the school. It was indeed an enthralling experience for all. Hare Krishna !!