Students of New Horizon – An Interview with Aashish Joshi
Posted by

Categories

Blog

Date

August 1, 2022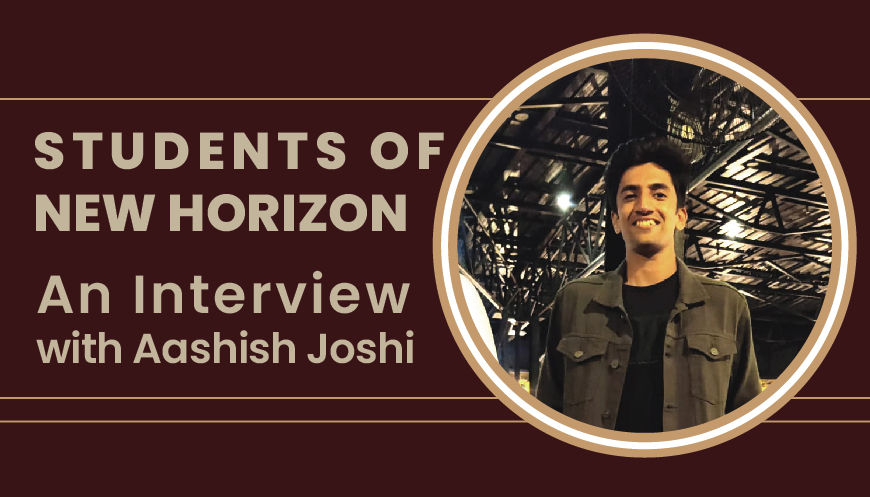 Some of the best memories we have are from our school and all of us hope that our children have the same fulfilling experience one day too. New Horizon Gurukul is a school synonymous with nurturing of character and development of a holistic personality. The atmosphere at New Horizon Gurukul fosters academic excellence, spiritual well-being, creative skills, social responsibility, and commitment to deliver the best. It inculcates in the child the values of kindness and fairness in all his/her dealings and accepts nothing but striving towards perfection.
But don't just take our word for it!
Meet Aashish Joshi, an ex-student of New Horizon Gurukul from the batch of 2015. He is currently pursuing his Masters in Robotics from the University of California, San Diego. He has always been a lover of science, nature, sports and is his happiest when he is outdoors. In this interview, Aashish shares his experience studying at New Horizon Gurukul, some memorable stories from his school days as well as advice to his juniors-
What are some of your favourite memories of school?
Some of my most vivid memories from school are those of my PT and science classes. I really loved playing Basketball at school because I would get to go outdoors and have a good time with my friends. One particular memory that stands out for me is when my class was given the responsibility to plan an event for my school. It was so much fun to work together as a group. I learnt so many things like teamwork, efficient planning, logistics and more. It was also really nice that we got to interact with our teachers so much. We all really developed a good relationship with all our teachers and classmates while planning and prepping for the event.
Can you tell us a little about your favourite subjects in school? Are you still studying those subjects now?
I was always curious about why and how things worked and hence I was always a bit inclined towards science. During high school when science split into physics, chemistry and biology I knew that physics was something I was very passionate about. One of the main reasons I liked science was because of the way it was taught in school. My teachers wouldn't just read out loud from the textbook but they would make sure they'd explain the concepts thoroughly with the help of live examples. My fascination with science led me to pursue that for my 11th and 12th grade where I studied Physics, Chemistry, Maths and Computer science and continued to study Mechanical engineering for my degree.
How did studying at New Horizon Gurukul impact you? What was your experience like?
School for me was definitely an enriching experience. It wasn't just about scoring the best marks for exams or performing well academically but rather focused on my all-round development. Gurukul always encouraged me to be confident, present myself well and pursue my passion. My teachers were very approachable and experienced. They made sure that our basic understanding of concepts was clear and were always available to clear our doubts. The environment that I studied in was healthy and I was always comfortable around my schoolmates and made some of the best memories with them. In fact, we all are still thick friends thanks to school!
Do you have any advice for students starting out at New Horizon and also those who are keen to pursue the same field as you?
My only advice would be to make the best use of the resources that Gurukul gives you. Focus on your holistic development rather than just your marks or coming first in class. It's important to try new activities and develop new skills that can help you in the future. If you are interested in science then make sure you try your best to read and learn more about subjects that interest you. There's always something new to learn at Gurukul!
New Horizon Gurukul – the best CBSE school in Bangalore and one among the top 10 CBSE schools in Bangalore is the perfect space for children to follow their dreams, explore, learn and unlearn to the best of their ability. Students at NHG – the best CBSE school in Bangalore among the list of CBSE schools in Bangalore gives students a place to grow and choose what they feel is right. Give your child the right education now.
Click the link for Admissions.